Upcoming Workshops
Cary Yoga Collective Workshops can be 2-3 hours, 1/2 day, full day, 2 days or more in length depending on the workshop and training objectives. Workshops may include a combination of lecture and asana practice. CEU's provided.
CYC Workshops are scheduled throughout the year at various locations. Contact Cary Yoga Collective for more information or to schedule a workshop at your studio / location.
Upcoming Workshops at Cary Yoga Collective
Register For Our Hip Mechanic Workshop On August 26th @ 2p!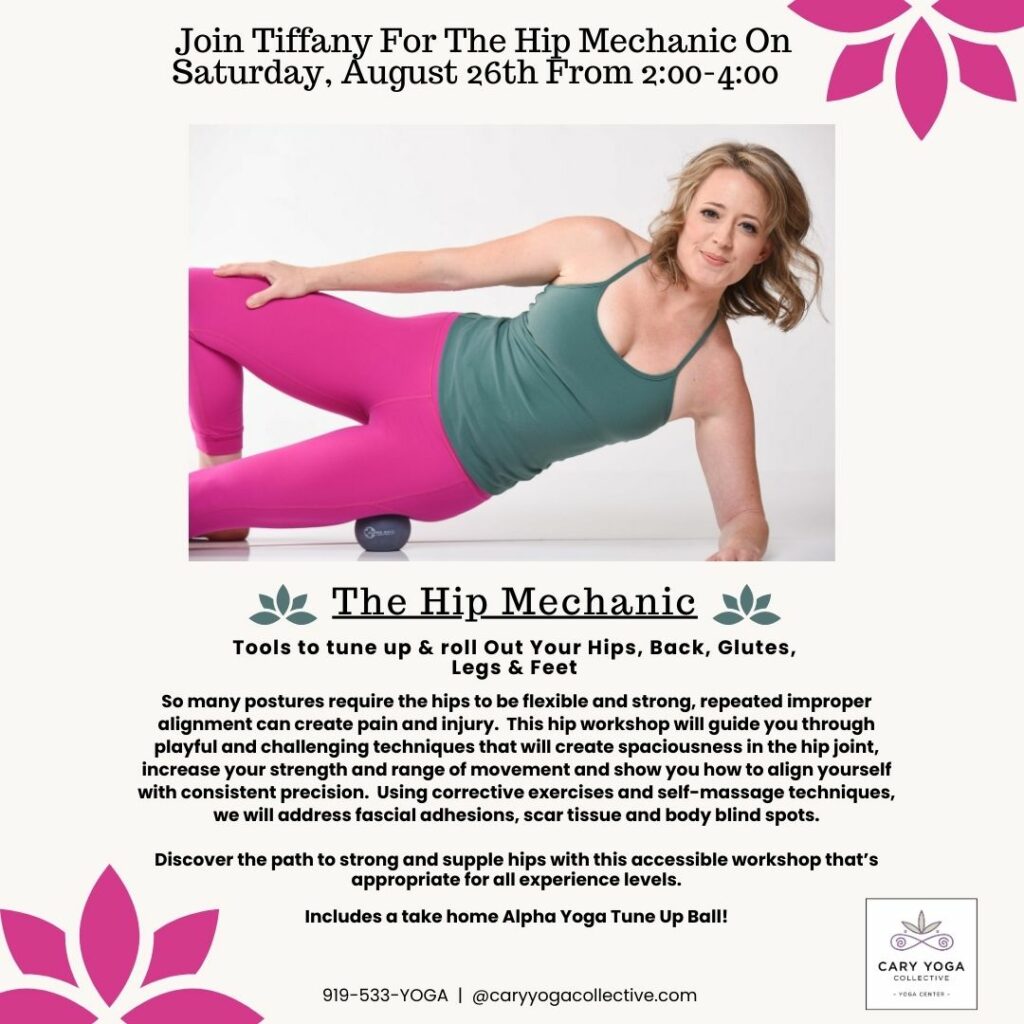 So many postures require the hips to be flexible and strong, repeated improper alignment can create pain and injury. This hip workshop will guide you through playful and challenging techniques that will create spaciousness in the hip joint, increase your strength and range of movement and show you how to align yourself with consistent precision. Using corrective exercises and self-massage techniques, we will address fascial adhesions, scar tissue and body blind spots.
Discover the path to strong and supple hips with this accessible workshop that's appropriate for all experience levels.
Cost Includes a take home Alpha Yoga Tune Up Ball!
For anyone living with:
Chronic Pain
Sciatica
Plantar Fasciitis
Low Back Pain
Lower Leg Swelling
Knee Pain
No Yoga experience necessary. Students of all levels are welcome!
When: Saturday, August 26th, 3rd 2-4pm
$60 (Take home therapy balls are included!)
About Tiffany: Tiffany is a renowned yoga and fitness instructor, C-IAYT, C-IYTT, LMT, and a sensual movement pioneer as the creator of the internationally Dance Brave™. Dance Brave™ is the culmination of 30+ years of intense fitness, nutrition and anatomy studies; teaching Yoga Tune Up®, The Roll Model Method® and sensual into embodied freedom.
Reserve your spot today as spaces will go fast!