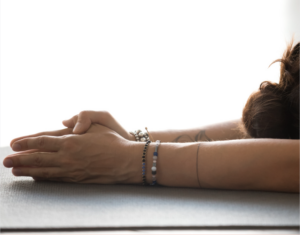 Welcome~
Cary Yoga Collective
A small, locally owned boutique studio offering over 25+ classes each week from highly skilled teachers ~ a practice for everyone and every level~ At Cary Yoga Collective, we believe Yoga is for Everybody!!
Check out our schedule and join us for group classes, workshops, teacher trainings or one of our many special events~ We look forward to supporting you in your wellness journey & welcoming you to our community!
---
Feel Good~ Feel Balanced
Feel Calm and Connected~

New to Cary Yoga Collective?
Welcome~ Select one of our New to CYC Student Specials below
---

Explore CYC Memberships
---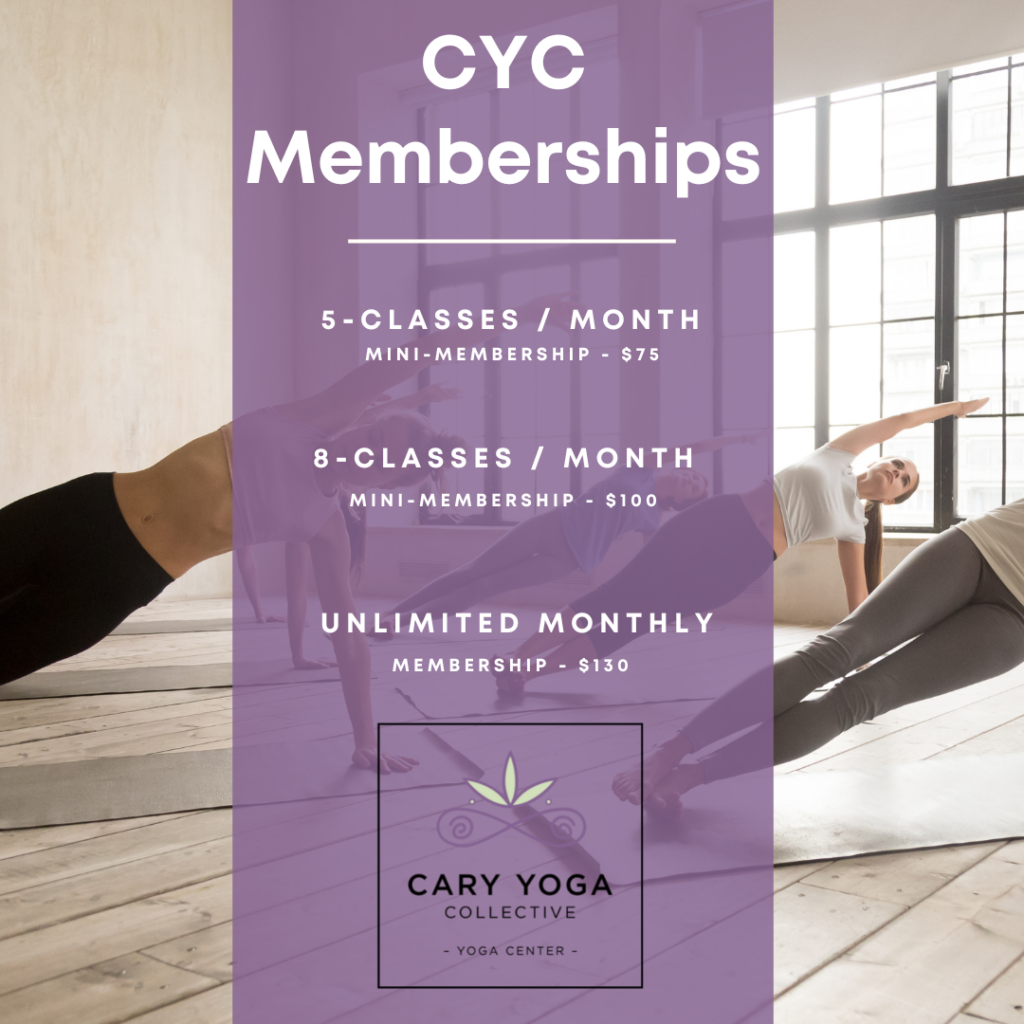 ❄️❄️❄️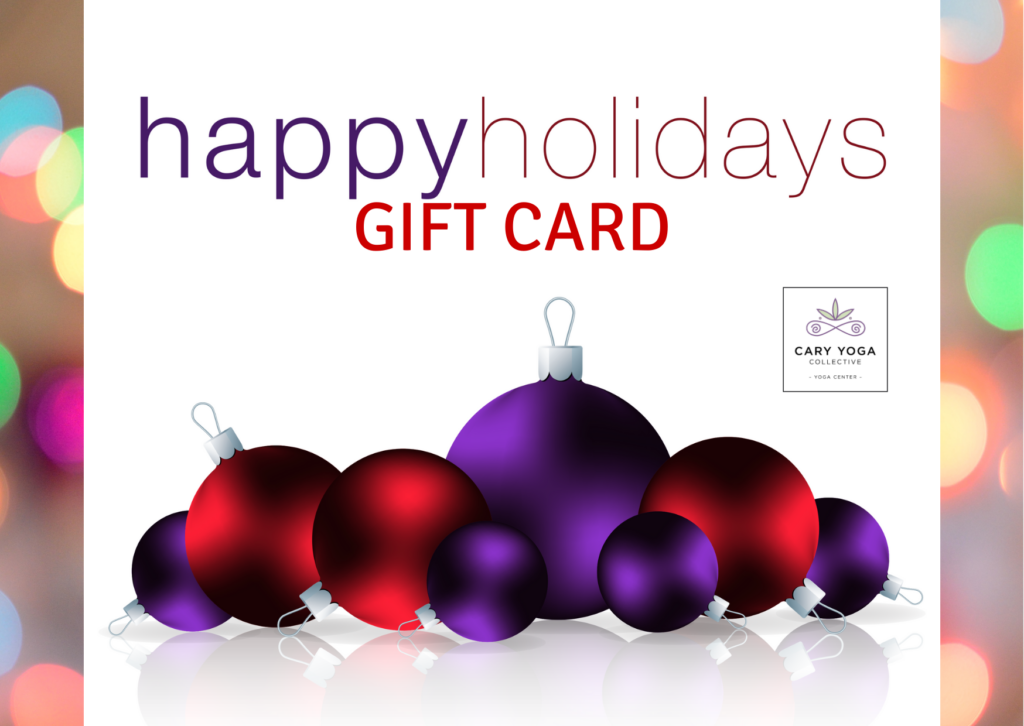 ---
CYC Memberships
Find your practice at Cary Yoga Collective and
join us with a membership that fits your schedule.
---
or choose a class pass
CYC Class Passes
UPCOMING SPECIAL EVENTS
🍁 Winter Solstice 🍁
The Winter Solstice marks a turning point in the astronomical cycle. In the northern hemisphere we turn again toward the sun and our days begin to gradually lengthen once again. This auspicious day is has been honored for many Millenia by cultures around the globe. Although those rituals vary, all share an appreciation for the return of longer days after the darkening and softening of late fall and early winter.
A ritual Alyson and Heather love to mark the Solstice is a Yoga Mala. We move gently and steadily through 54 Sun Salutations, build heat and paying tribute to the sun and the earth. In our Yoga Mala we will intersperse with these salutations periods of rest and reflection. After a restorative Savasana, we culminate with a Burning Bowl ceremony in which all are invited to let go of what doesn't serve and to manifest fresh, new intentions for the year ahead.
Sunday, December 17th
2-3:45p
Cost: $35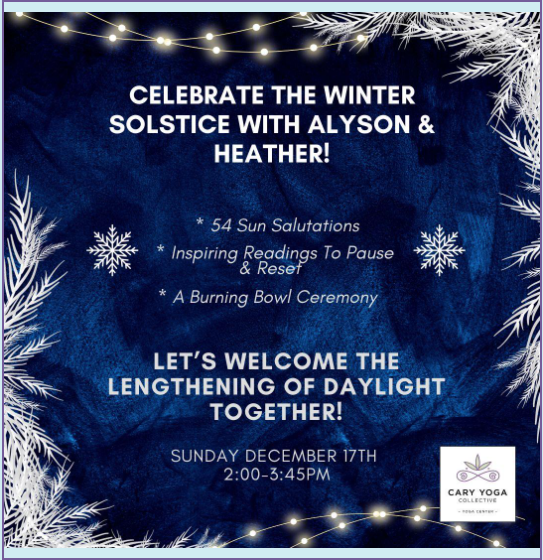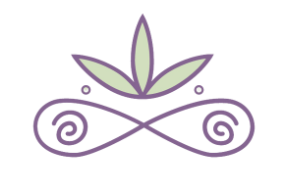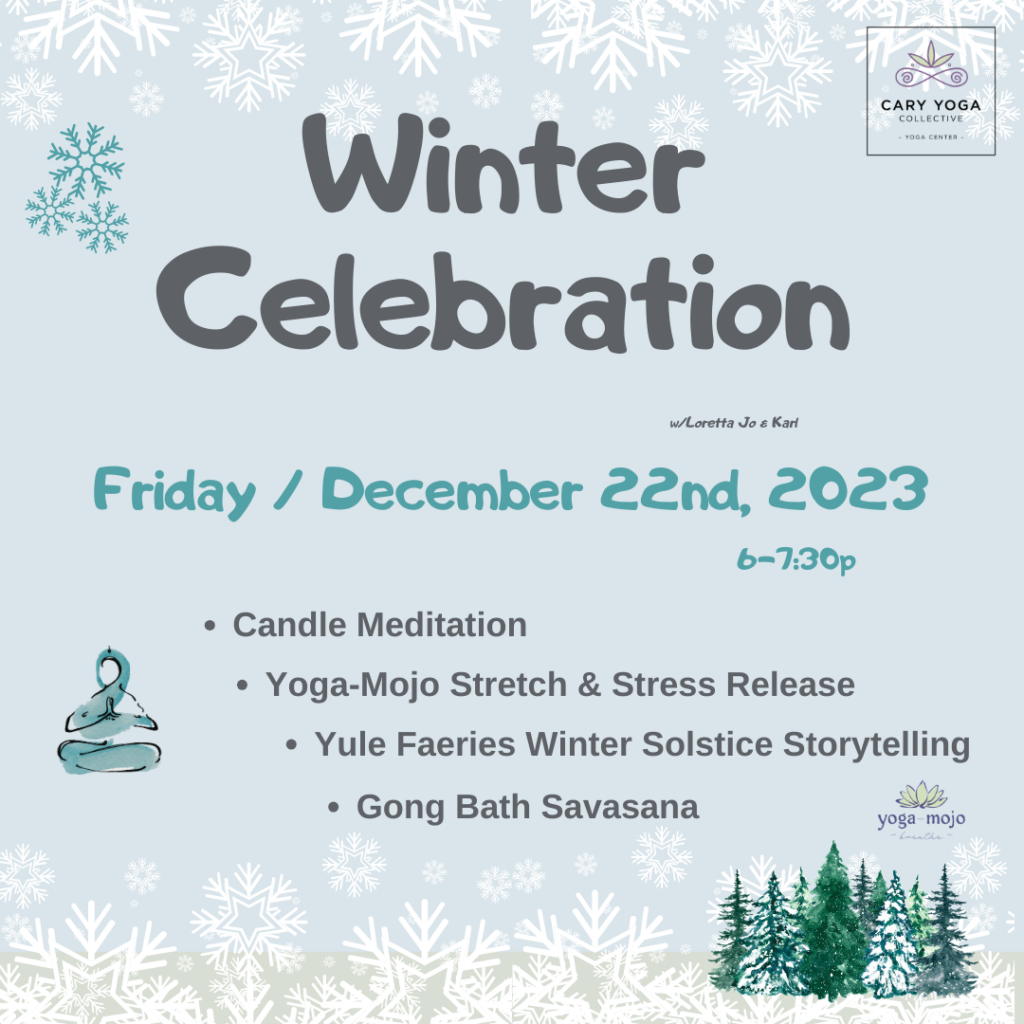 ❄️Winter Celebration ❄️
with Loretta Jo
Celebrate the Season!!
Winter Solstice ~ Ritual / Candle Meditation / Stretch & Release Vinyasa / Restful Savasana with Gong Bath~
Loretta Jo leads this special event to celebrate the Turning of the Wheel, welcoming the season of Winter. We'll begin with the calling in of the Four Directions, followed with a candle meditation*, slow flow stretch & release practice** and the wonderful soulful vibrations of the gong in Savasana. In addition, Loretta Jo will share the story of the Yule Faeries ~ a Winter Solstice Story~
Enjoy time for reflection and renewal in mind, body & Spirit~
*if you have a special candle, please feel free to bring it with you~ however, candles will be provided.
**Stretch & Release – is a practice open to all~ no previous yoga experience required.
When: Friday, December 22nd 6-7:30p
Cost: $30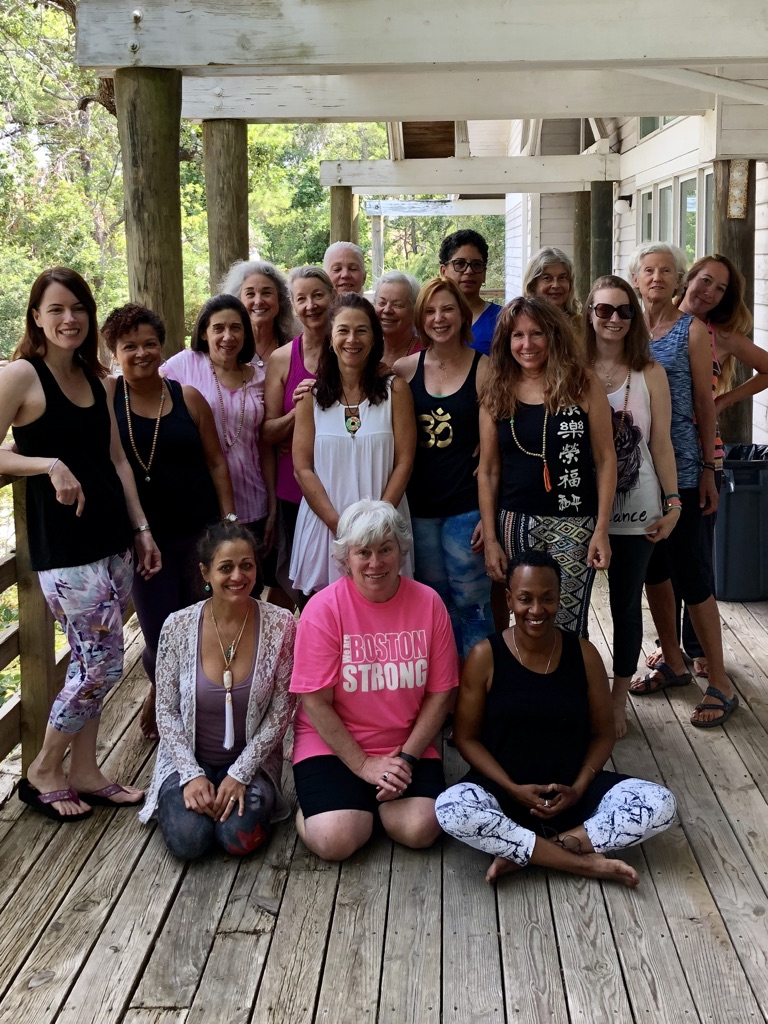 Student Testimonials
I just wanted to tell you how much I appreciate you and all the exciting things you are teaching me in such fun and enjoyable ways with so many unique and creative tools. I never thought I would enjoy learning so much! I can tell I am gaining more confidence every day and so can my family and friends. That's a great feeling. I understand with patience and devotion it will come, so I can let go and continue to keep moving on."
CYC Updates & Special Events
Join us at CYC for upcoming special events or workshops.
These offerings are meant to help you explore or deepen your yoga practice and create community.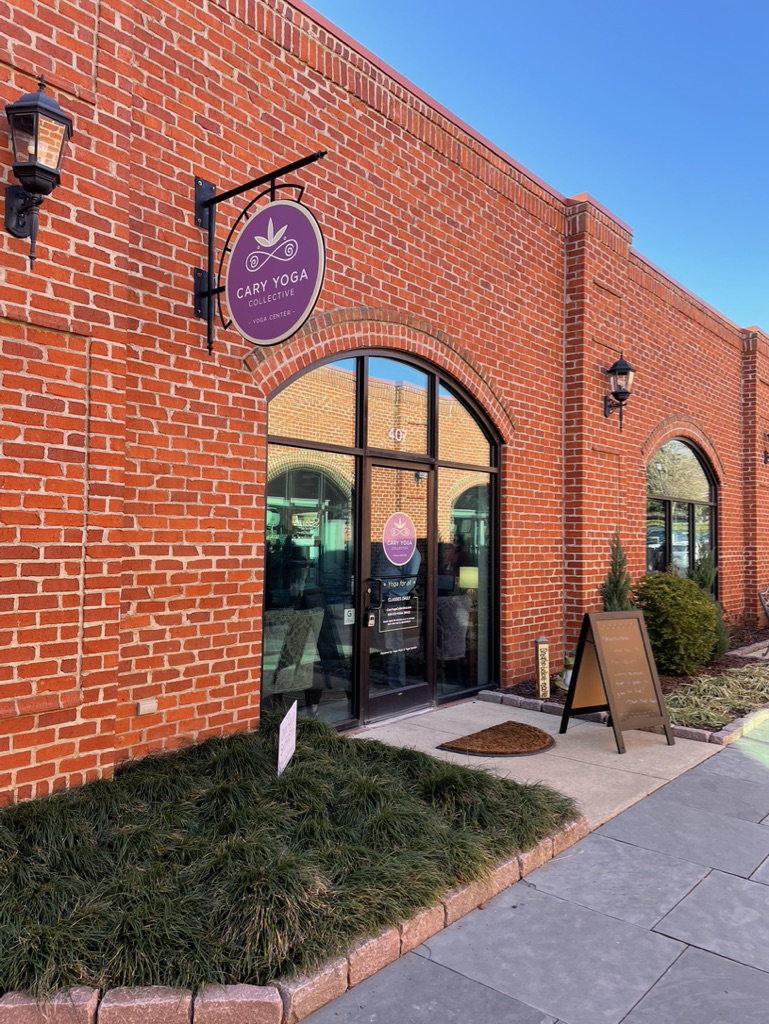 Cary Yoga Collective
Cary Yoga Collective offers a variety of classes with knowledgeable teachers and personal styles.
A consistent practice can Physically:
increase flexibility and range of motion
build muscle strength and tone
impact respiration, circulations and central nervous system
help maintain a balanced metabolism
maintain or loose weight
improve cardio and circulatory health
improve overall athletic performance
prevent injury
ease back pain
support improved balance
a consistent practice can mentally help:
create mental clarity and calmness
increase body awareness
relieves chronic stress patterns
relaxes the mind
centers attention and
sharpens concentration
We invite you to join us on the mat~
Learn new tools that support you and your overall health and wellness and…
Join a supportive yoga community
UPCOMING WORKSHOPS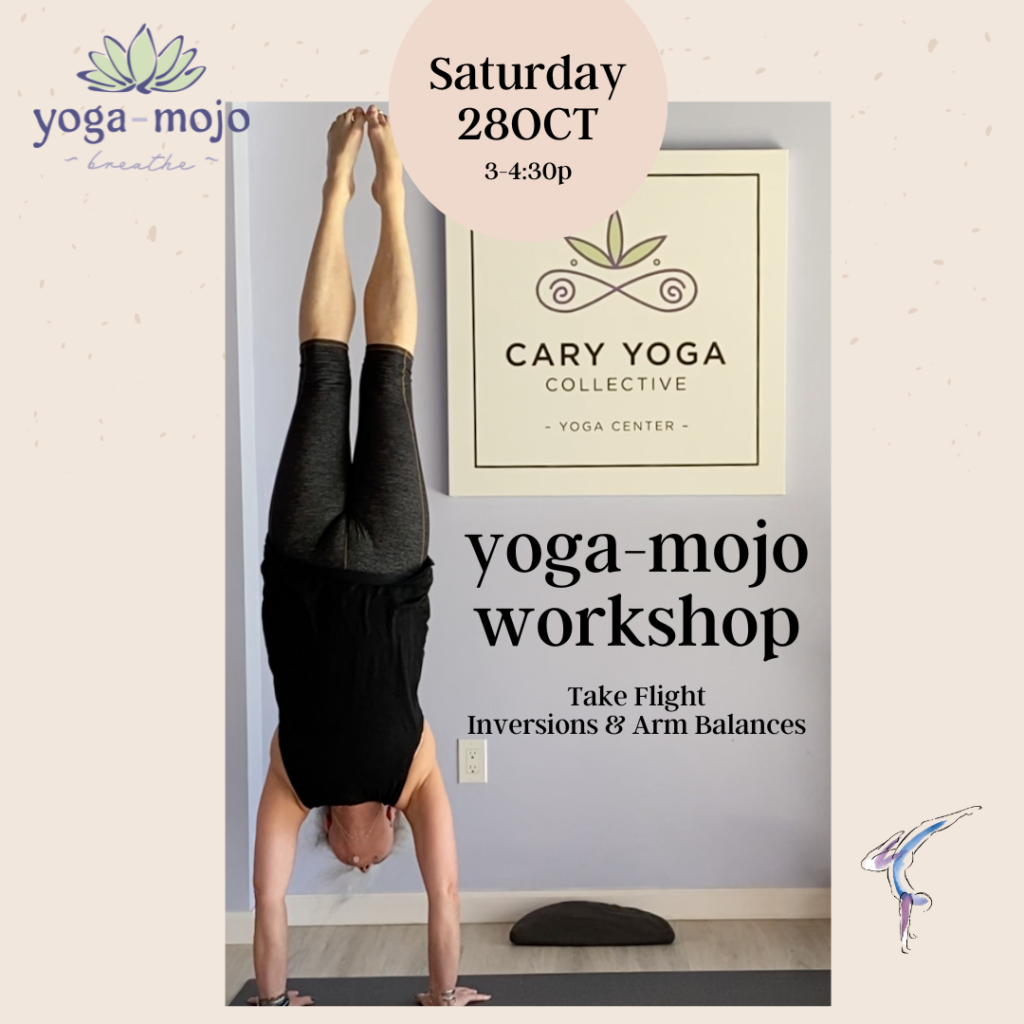 TAKE FLIGHT!!
Welcome to one of the most fun and playful yoga workshops! What are Inversions? Inversions are defined as poses where the heart is above the head and where the pelvis is above the heart. Inversions and arm balances are movements and poses that require 100% of your attention and where you are fully engaged. Inversions and arm balances have the capacity to lift your spirits, your mind and your physical body — improving mood, focus and mental clarity.
Learn tips and alignment cues that can transform your practice of inversions & arm balances.
Cost: $30*
*early bird special $25 – register by 10/15